Spring semester is among us, the birds are chirping, and snow is melting into a beautiful green scape (yeah – in my dreams). No matter how cold February gets, second semester is pretty important if you are of college age. This is your opportunity to rush a sorority! To help you out, I've made the ultimate guide of Do's and Don'ts with help from a couple of sorority sugars themselves. Good luck and happy rushing.
As you may know, you will be getting a disaffiliated sister who will help you figure out the whole process, but here are a few tips just in case she doesn't cover everything. When you meet the girls in each sorority, they will have already received your profile listing a bunch of things about you and what you've done in high school and college. This will mean that they have an idea of what to talk to you about and will have certain girls talk to you about different things. Rushing is basically flirting with girls for three hours and non-stop talking so try to be interesting and a little different since they'll be asking the same question 700 times that night. You want them to know a lot about yourself, so don't focus on just one aspect for the entire time.
Questions You Can Ask:
What's your major?
Why were you drawn to greek life?
What do you feel is the most important part of being in a sorority?
Academically, how will this sorority help me in my college career?

Does this sorority have older members that tutor younger ones?
Topics to Avoid:
Boys

You don't know if you've hooked up with their ex-boyfriend, current crush, or latest heartbreak so keep them out of the discussion unless you want to get some serious death glares.

Partying

Don't be afraid to show that you're fun, but you don't want to give off the "all I do is party" vibe.

Super Controversial Topics

If you bring up religion, politics, or serious debate issues, you're asking for it. Think of it like a first date: you want to present yourself in the best way possible so you can leave all the hard life topics to be debated after you've been together for a month.

Wealth

It depends on each school/sorority but most don't like you to boast about how much money your parents have. It comes off as snobby and desperate for them to like you. If you mention your vaca in Bali over break, that's fine but if you talk about how you just bought three new boats because it was a Wednesday, you're leaning towards obnoxious and arrogant.
Safe Topics:
Study Abroad Interests

Ask questions about where they've gone and what their experiences were

Clubs at School

What's the best to join?
What do they participate in?

Courses

Mention an interesting class your taking and see if they have any insight on the professor or classwork.
The sisters will mostly be asking you the questions but it is good to show them that you are interested by asking about how their sorority works and how you will fit in there. Hopefully, you'll find yourself talking to a girl that you have a lot in common with at some time in the week. In that case it's alright to ask her about her life or talk about things outside of the sorority but remember to keep it to a minimum because the night is about recruitment and not what she, Molly, and Hannah did last weekend. It also may not be a smart idea to get into super personal questions because you don't know how the girls will react (sarcasm also being kept to a minimum).
As rush week progresses and your choices are narrowed down, you should ask questions about each of the sorority's functions. Most sororities hold annual events that are hosted in order to raise funds for charities (this is another safe topic of conversation).
Questions Sisters Will Ask:
Why do you want to rush?

Warning: DO NOT start answering with, "Umm… I don't know but…" Plan your answer beforehand.

Where are you from?
What's your major?
What dorm are you in?
Which classes are you taking this semester?
What kind of philanthropic events have you participated in?
Why are you interested in our sorority?
Why did you choose (insert college name here)
What are some of your hobbies?
What did you do in high school? (activities/sports/clubs)
What did you do over break?
Where did you go to Prep School?
Do your homework and know what each sorority's symbol, charity, and major campus events are so you don't embarrass yourself with questions that you should already know the answers to. However, even if you know all about the sorority, it sometimes behooves you to ask about it anyway so the girls think you are interested and have prepared real questions.
What to Wear:
A nice day dress that's at (or a little shorter than) knee length

Many opt for a cute Lilly dress and Jack Rogers but don't worry if you're the only one sporting a different print. Anything that's cute and doesn't show a lot of skin is a "go."

A nice pair of sandals/boots depending on the season
A small purse for your phone (which you should NOT take out), wallet, lip balm, and tiny knick knacks the girls may hand you throughout the day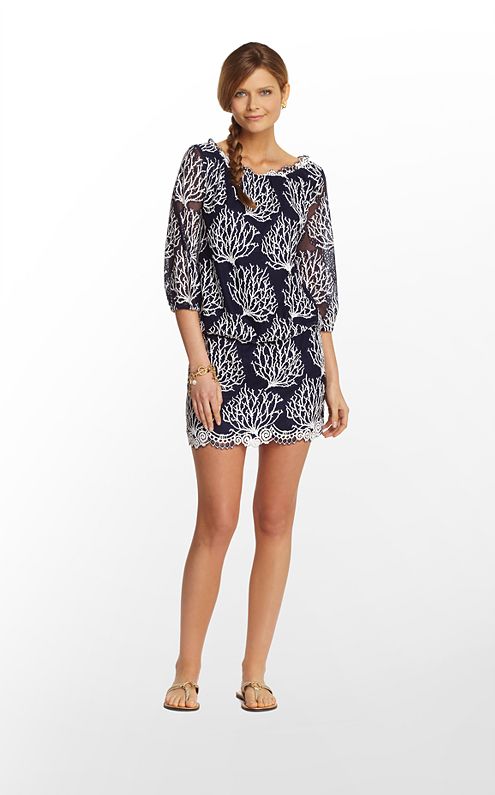 Some schools may have everyone wear the same T-Shirt and require no jewelry in order to concentrate purely on personality during recruitment. If so, make sure to wear a nice tailored pair of jeans with flats. This gives you the opportunity to focus on hair, makeup, nails, and your shining character traits.
Most importantly: remember that they're just college girls and that they want you to like them just as badly as you want them to like you. The best advice I can give is to be yourself (as cliche as it sounds) because in the end, if you act like someone else, you're going to be in a sorority where you don't feel comfortable and don't have a good time. In the end, staying true to your personality but giving a good impression is the best thing you can do.