No one likes when their drink gets warm. And no one especially likes when their cold drink gets sand attached to the bottom of it at the beach. So, why not add color and prep to your drink, keep your drink cold, and prevent sand from getting on the drink with a koozie?
Koozies are perfect for this time of year in the spring and summer when an ice cold, refreshing drink is always craved. Not only are they a necessity to have, but most of them are so cheap! I'm planning on getting a new koozie soon and possibly making a little collection out of them. So, I've found five koozies that I would want to buy for my drinks.
The first koozie is from Southern Anchor Clothing. I first found out about Southern Anchor Clothing about a month or two ago through Twitter. They're a fairly new brand, and they used to only have car decals. Now their shop has widened to a shirt and koozie! This koozie is plain yet nautical with the anchor and bowtie.
The second koozie is from Southern Coast Clothiers. This koozie comes in ten different colors: navy, teal, coral, yellow, lime, hot pink, red, black, grey, and orange. Being a girl and having pink as my favorite color, I chose the hot pink one. This koozie is similar to Southern Anchor Clothing's koozie with the anchor and bow tie. However, I like this koozie better because it has a wide color selection instead of just coming in one color!
The third koozie is from Country Club Prep. The design of this koozie made me laugh because of how clever it is. However, I'm not sure if I'd actually want that phrase on a koozie. I do love the color, though!
The fourth koozie is from Marley Lilly, one of the most amazing monogram shops. I love that the colors of this koozie are pink and green, my two favorite colors! There are two designs for this koozie – circle dots (as shown above) and chevron. I like the chevron a little bit more, but they're both adorable!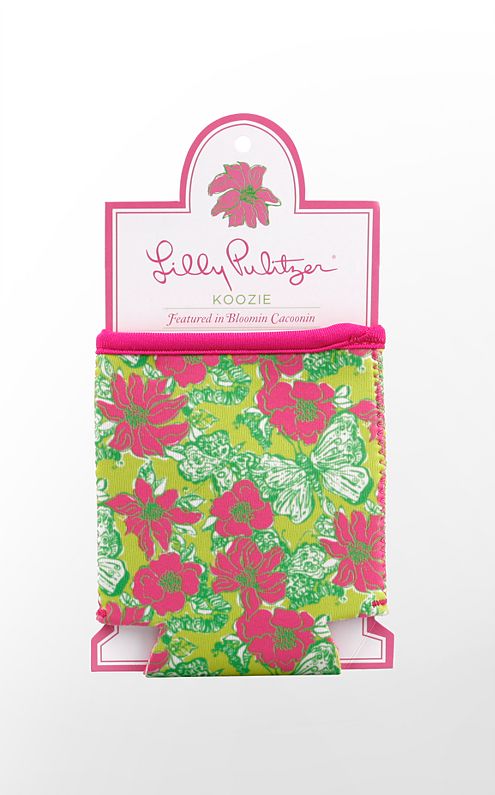 The last koozie, and my favorite!, is the Lilly Pulitzer koozie in Bloomin Cacoonin. Lilly Pulitzer never fails to make adorable, fun, and bright products. The reason why this koozie is my favorite is because it's not plain – it's covered in a colorful design.
Do you have a koozie that you love to use in this type of weather?